USB drives come in a wide range of styles and sizes. Many people use small, USB flash drives or a USB stick to carry around files that they want to share with colleagues or friends. Larger USB drives are used to provide additional external storage to desktop and laptop systems.
Accidentally formatting a USB drive can put a lot of data at risk. A simple incorrect click can result in what might appear to be a disaster. But there is hope. We are going to show you how to recover files and folders lost due to formatting a USB drive.
Tips to Successfully Recover Deleted Files From a USB After Formatting
The single most important action you can take to give you the best chance of recovering data from a formatted USB drive is to STOP USING THE DEVICE IMMEDIATELY! Using the device, especially to save new information, risks overwriting data that may be recovered even after you have formatted the drive. You should disconnect the USB drive and keep it in a safe place until you are ready to attempt data recovery using one of the methods described later in this article.
It makes no sense to continue to use a USB drive after you format it if you think you might need to recover data from the device. Once it's formatted, you will not be able to access its former content from your operating system, and any use of the device simply makes the probability of ever getting the lost data back more remote.
What Happens to a USB Drive When it is Formatted?
Formatting a storage device like a USB drive is an activity performed by the operating system to enable a filesystem to be installed on it. In some cases, it is necessary to format a storage device for it to be usable by your computer. Windows offers a Quick and normal or full format which take very different approaches to preparing a disk for new data.
Formatting a USB drive prepares it for use by a computer. Disk performance is optimized and a filesystem is installed on the device for the operating system to use to store data. A Quick format simply creates a new filesystem and does not erase the data previously stored on the drive. A normal format does destroy the data, perhaps by writing patterns, such as zeros, across all drive sectors.
Guide to different formatting options:
| | | | |
| --- | --- | --- | --- |
| | Quick Format | Normal/Full Format | Overwriting data after formatting |
| Destroys current data | No | Yes | Yes |
| Allows for easy recovery | Yes | No | No |
| Recommended when selling a USB device | No | Yes | Yes |
How to Recover Data From a Formatted USB drive
If you are in the habit of regularly backing up the data on your USB drive, you may be able to use the backup media to recover the information if you have inadvertently formatted it. Best practice does recommend backing up your data, but many users only back up their main hard drive. So you may have formatted a USB drive for which you do not have any backups to attempt recovery. Now, what do you do?
Data recovery software can be used to essentially unformat a USB drive. While from a strictly technical perspective it is impossible to reverse the formatting process, you can undo most of the damage done to the data that resided on the drive before the process was performed.
There are numerous data recovery products on the market that work on various operating systems. We have tried many of them, and some definitely offer more features and better recovery performance. We like Disk Drill USB Recovery for its simple to use interface, strong recovery capabilities, and free data protection tools.
Here's how to use Disk Drill to recover data from a formatted flash drive.
Download the Tool: Download and install Disk Drill data recovery software on your computer's main disk.
Connect Your USB Drive:

Connect the formatted flash drive to your machine.

Select the USB Device:

Launch Disk Drill and select the flash drive from the app's list of available disks.

Scan Your Flash Drive: Click the Search for lost data button to initiate the scanning algorithms that identify recoverable files.
Preview Files:

Preview the files that can be recovered. Select the specific files you want to restore and a new storage location that is not on the formatted flash drive. There is also the option to recover everything at once. You can move data back there after the recovery is complete if you wish, but keep away from it to avoid overwriting the data you want to retrieve.

Restore Files: Click the Recover button to perform to restore the selected files to the designated storage location.
Disk Drill is available for both Windows and Mac machines. It provides data recovery capacities for virtually any type of disk-based storage device. Disk Drill supports these file systems:
The tool is extremely versatile and can recover more than 400 different file formats including all popular image, audio, video, and document files. It's our go-to solution when we need to use reliable USB recovery software.
[Bonus] Manual Solution: How to Recover Data from a USB Hard Drive Using CMD (Windows Only)
Windows users can try to recover a USB drive using the command line. To try this method of data recovery, use the following steps.
Open a command prompt by typing cmd in the Windows search box.
Select run as administrator.
Type this command: chkdsk G: /f/x/r. Replace G with the drive letter of the formatted USB drive.
Hit Enter and let the process complete.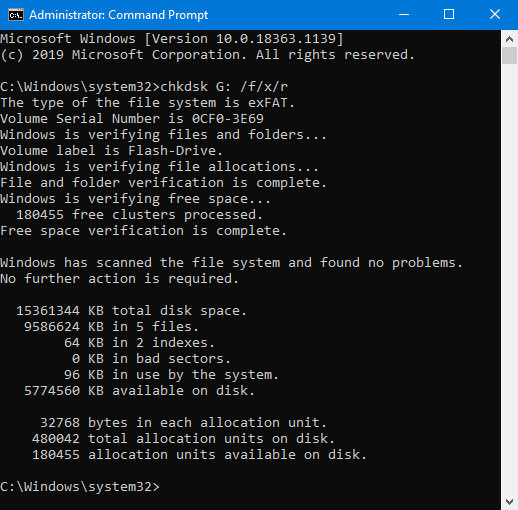 Please note: this method helps to recover data from damaged sectors on the disk-based device and might not be valuable for formatted drives.
The files should be returned to the previous folder. You might try this with wildcards to get several files at once, but we recommend using data recovery software for the best results.
What Is the "USB Drive not Formatted" Error and How do I Deal With It?
If you see the "USB Drive not Formatted" error on your Windows machine, it is likely that that the filesystem on the drive is damaged, corrupted, or unrecognized by the operating system. You will usually not be able to use the device until you format it, but that will delete its data. Follow
these steps
to try to get around this bothersome error message.
Try connecting the USB drive to another port on your computer and if that doesn't work, attempt to connect to a different machine. If you still get the error, you need to format the disk after using data recovery software to salvage the data on the disk. You can use the procedure outlined earlier in the article that describes how to use Disk Drill to recover a formatted drive.
After the recovery is complete, reformat the drive with the filesystem of your choice and you should be good to go.
FAQ
You may need to use a backup to recover your lost files. Based on the operating system that formatted the device, data may have been fully overwritten during a full format.
The drive may have a corrupted or damaged filesystem. Before formatting the drive, you should use the data recovery techniques discussed above to retrieve any data that may be stored on the device. After recovery, you probably should format the pen drive and install a new filesystem.
Without software, your options for recovering files from a formatted pen drive are:
Recovery from a backup;
Using the Windows command line CMD;
We discuss how to use these recovery techniques earlier in the article.
Conclusion
As you can see, there are several ways of recovering data from a USB drive after you format it. You should consider always using the Quick format option to avoid overwriting the data and making the information on the drive unrecoverable. USB data recovery software offers the most reliable method of recovering lost data from a formatted USB drive or any other data loss scenario. Just remember to stop using the device you have accidentally formatted until you have recovered its data. There's a good chance you can get that lost information back.