We are going to show you three ways to perform flash drive recovery. By following our step-by-step instructions, you can bring back files you thought were permanently deleted and avoid losing everything from hours of work to irreplaceable memories.
Jump to:
Flash drive technology is an extremely popular method of adding extra storage to a computer or mobile device. These small, portable storage devices are known by many names including thumb drive, memory stick, pen drive, and USB stick.
Millions of users rely on USB flash drives or comparable removable storage devices to save and protect their data. Music, photos, videos, and other items are stored on flash drives from smartphones, cameras, and handheld devices. Unfortunately, flash drive technology is just as susceptible to data loss as other storage technologies.
How to Restore Deleted Files on Your Flash Drive Using Data Recovery Software
Data Recovery software is the first way we will consider to undo the effects of accidental file deletions or inadvertent flash drive formatting.
Our editorial team prefers Disk Drill. This is a simple but feature-rich solution that can help you undelete files from your USB in a few easy steps.
To maximize your chance of recovering lost files and folders, you should stop using the flash drive as soon as you suspect data loss has occurred. This includes not using the drive to download and install Disk Drill.
Download and Install Disk Drill
Disk Drill can be easily
downloaded from the official website
of its developers, Cleverfiles. The free version for Windows allows you to recover up to 500 MB of data for free, which is plenty for hundreds of documents or dozens of songs and images.
Connect the Flash Drive to the Computer
Simply connect the flash drive you want to recover to any free USB port on your computer. To enjoy the best data recovery speed possible, always choose the fastest USB port available.
Launch Disk Drill
With your flash drive connected, you can go ahead and launch Disk Drill. Keep in mind that Disk Drill may request admin access before running. Without it, the software can't use its powerful algorithms to analyze the flash drive at the deepest level.
Select the USB Drive You Want to Recover
Select the connected flash drive from the list of storage devices detected by Disk Drill. If you're not sure which device to choose, you can select it and then switch to the Info tab for more information about it.
Scan Your Flash Drive
Click the Search for lost data button to start Disk Drill's scanning procedure. By default, all recovery methods are applied in the optimal order to identify as many recoverable files as possible.
Review the Results
Review the list of recoverable files and select the ones you want to recover. When you click on a file, Disk Drill will attempt to display its preview. Generally, all files that can be previewed can also be successfully recovered.
Recover Your Data
Click the Recover button to restore the files to their new location. Choose a location that's not on the same USB drive from which you're recovering your lost files to avoid overwriting.
How to Recover Deleted Files From Flash Drive Using CMD
Windows users can use the command prompt to attempt flash drive file recovery using two native commands, one of which checks and fixes file system integrity, while the other one reveals hidden files and folders.
To recover files using CMD, follow these steps:
Open a command prompt by pressing Windows + R and typing CMD in the search box.
Type chkdsk "drive letter": /f and press the Enter key.
Use this command to recover the lost files on the drive: ATTRIB -H -R -S /S /D "drive letter":*.*
When recovery is complete a new folder will be created on the flash drive with the recovered files. They may be in CHK format and will need to be renamed and saved in order to be usable.
How to Restore a Previous Version of Files on Your Flash Drive
You can attempt to recover deleted files from a thumb drive by restoring a previous version of the files and folders. This can be done in a number of ways.
If you are running
Windows 10
,
Windows 8
or
Windows 7
you can use the built-in facility in the OS that allows the restoration of previous versions of a file or folder.
Here is a simple procedure to follow:
Using Windows Explorer, navigate to the folder that contained the files or folders you wish to recover.
Right-click and select Restore previous versions.
Select the version you want and click Open to verify it is the file you want to restore.
Complete the restore by selecting the previous version you want and click Restore.
---
Another way to restore a previous version of a file is through backups that have been previously created. The specific steps will vary depending on the method you use to make the backups, but the general procedure is the same.
Fire up your backup tool.
Search for the lost files or folders.
Restore them from the backup storage media or the cloud.
Of course, to take advantage of this method
you need to have a backup that contains the deleted items
. Even
if you take regular backups
, newly created or modified files may not have been backed up before being accidentally deleted.
Advantages of Using USB Data Recovery Software
USB Recovery Software offers you the best chance to recover deleted files from USB drives. You can attempt to perform recovery without software using the methods described above, but they are an inferior solution to using data recovery software.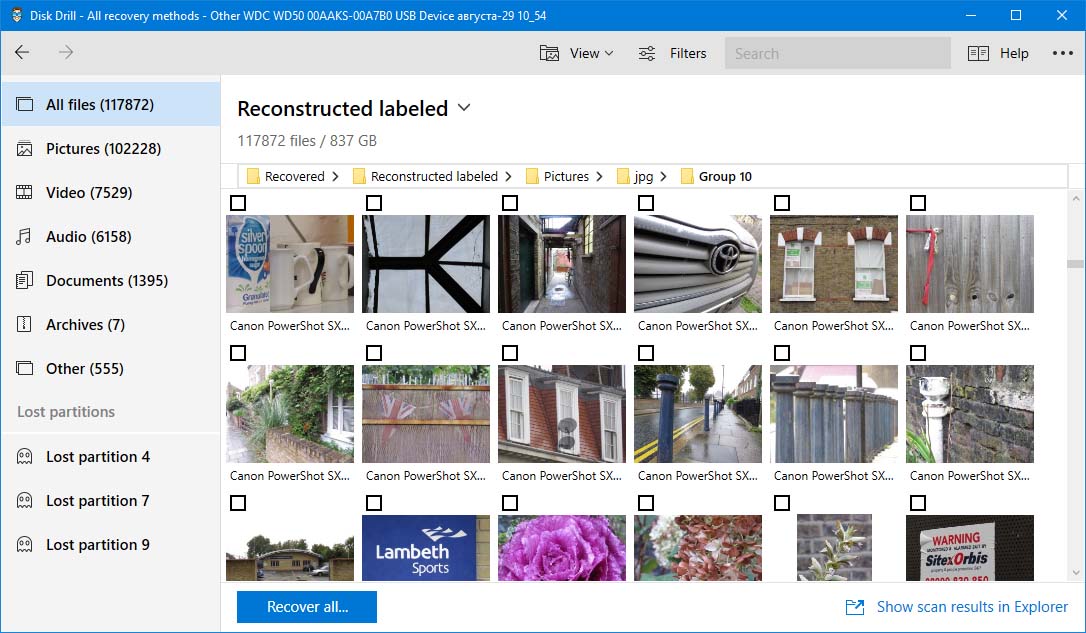 Recovering from a previous version or a backup forces you to use an outdated file that will not contain any changes made since the last backup. Recovery software goes after the actual data that was deleted and restores it to the state it was in before deletion.
Protect Files on Your Flash Drive From Accidental Deletion
You can protect the files on your flash drives in a variety of ways. Some of the best are:

| | |
| --- | --- |
| Method | Description |
| 🛡️ Backup the files | This task can be easily accomplished with the cloud backup option available with many mobile devices in which a flash drive is used. You can also use another physical storage device to create an extra copy of your data. Regular backups are key to data protection. |
| 🔤 Label the flash drives | Clear labeling can help prevent accidental formatting or file deletion. |
| ✅ Keep your flash drives safe | Thumb drives can easily be lost or damaged if not cared for properly. This can lead to the loss of valuable and potentially irreplaceable data. |
Most Common USB Flash Drive Issues
– USB Device not recognized
Solution: There are a few different ways to approach the "USB Device not recognized" issue.
Try a different USB port.
Completely power down your system and restart it.
Remove and reinstall or update the driver.
Try the device on a different computer.
---
– USB Flash Drive Showing "Disk Not Formatted"
Solution: USB drive is asking to be formatted? Format the drive or try it on another computer. If you need the data on the drive, after formatting you can attempt to restore it with data recovery software.
---
– Connected Flash Drive is not detected in Windows
Solution: This problem can be caused by drive corruption, erroneous BIOS settings or compatibility issues. Try a different computer if available. Data recovery software may be able to rescue the data from the drive if it can identify it as a raw disk.
FAQ