Is it Possible to Restore Files From an External Hard Drive?
Yes. You can recover files from external hard drives if they have been accidentally deleted. External hard drive recovery is possible even after formatting or if the hard disk is damaged. Due to the way modern operating systems handle file deletion and disk formatting, the files are still physically available even when logically inaccessible to the system. Through the use of data recovery software, the drive can be recovered, allowing you to restore the lost files.
Jump to:
The ability to recover deleted files from an external hard drive can be extremely important in a variety of situations. Many computer users use an external HDD as the media on which to store their system's backups. Loss of the data residing on this storage device could potentially destroy years of data backups.

Another popular use of external hard drives is to provide extended storage to augment the capacity of your system's internal disks. Common uses include storing photos, music, and video collections that occupy too much space on the internal drive. These collections can comprise materials in which you have a financial or emotional investment. Losing them to accidental deletion or realizing you have inadvertently formatted the wrong disk can be devastating.
You also may need to retrieve files from a logically damaged or corrupted disk. In all these cases, data recovery software can save the day.
Update notice
Previous visitors to this page will notice some changes and improvements. We often revisit our pages in an attempt to more completely cover the topic and subject matter. We have added more detail to our solutions as well as more extensive information regarding the problems that can plague external hard drives. There are also some data recovery solutions that may help you get your files back without recovery software. Hopefully, you'll find what you are looking for regarding external hard drive data recovery.

How to Recover Data from an External Hard Disk That is Not Detected by Windows
Before getting into the specifics of data recovery, let's talk about what to do if Windows does not recognize your device. There are several actions you can take to try to resolve the problem of an external hard drive not showing up on your computer.
🔗 Check the connection and cables
Make sure your device is plugged in and powered on. Check the cable and replace it if it looks worn. Trying a different cable is not a bad idea even if it looks alright.
🔌 Try a different port or computer
It may be that the USB port is no good. Trying a different port on the machine or locating another compatible computer to use can resolve this issue.
✏️ Format the drive
Corrupt or RAW disks may need to be formatted to be recognized by your OS. This can potentially destroy some of the data on the disk so should be done with caution.
Why Is It Possible to Recover Files Deleted from an External Hard Drive?
Yes, it is possible to recover files that have been lost due to deletion or the formatting of an external hard drive. This can be accomplished because of the way modern operating systems handle data deletion on hard drives.
When you delete a file on a Windows system, logical access to the data is removed but the data remains physically on the disk. The space occupied by the deleted item is marked as available for future use by the operating system. Eventually, that space will be reused as new data is saved to the disk.

Until the original data is overwritten, data recovery software can repair the logical links and make the files and folders accessible by the OS and your applications. These specialized software tools scan the disk for deleted items and make them available again.
The key is to stop using the external hard drive as soon as you suspect you have lost data. You need to prevent the operating system from overwriting the deleted items with new information. Unplug the external drive and don't use it again until you are ready to perform the data recovery.
How to Recover Deleted Files From an External Hard Drive Using Data Recovery Software
Here are the simple steps that will get your deleted files back from an external hard drive using Disk Drill Data Recovery.
Download and install
Download
and install Disk Drill for Windows on your computer. Provide system level credentials during the installation and grant the program permission to make system changes if prompted.
Connect and launch
Connect the external hard drive to your machine and launch Disk Drill. You will be presented with a disk list displaying all available devices. Select the external drive from the list.
Scan for deleted files
Click the Search for lost data button to start the scanning process. You can choose the type of scan to be performed, although the best recovery results will be achieved by allowing Disk Drill to run all of its scanning procedures automatically in the optimal order. You will see a status bar indicating the progress of the scan which can be paused and restarted at any time. Data can be recovered before the scan completes when the process is paused. Scan results can also be mounted as a virtual disk to make recovery even easier.
Preview recoverable data
Preview the files found by Disk Drill's scanning algorithms. The recovered data will be nicely organized in folders for Pictures, Video, Audio, Documents, and Archive files. Select the files you want to restore as well as a safe location to store them. Do not use the original external disk to avoid overwriting the data you want to recover.
Perform the recovery
Click the Recover button to restore the selected files to your designated storage location. When the process completes you files will be available to your operating system and their original applications.
Disk Drill – A Reliable Professional External Hard Drive Recovery Software Solution
We regularly test software solutions in our daily work and were impressed with Disk Drill. The tool has enabled us to recover from a variety of data loss scenarios and the data protection features let us rest easy that our data is safe.
Disk Drill is a professional data recovery solution that is available for Windows and Mac systems. The tool can restore lost and deleted files and folders from virtually any kind of disk-based storage media.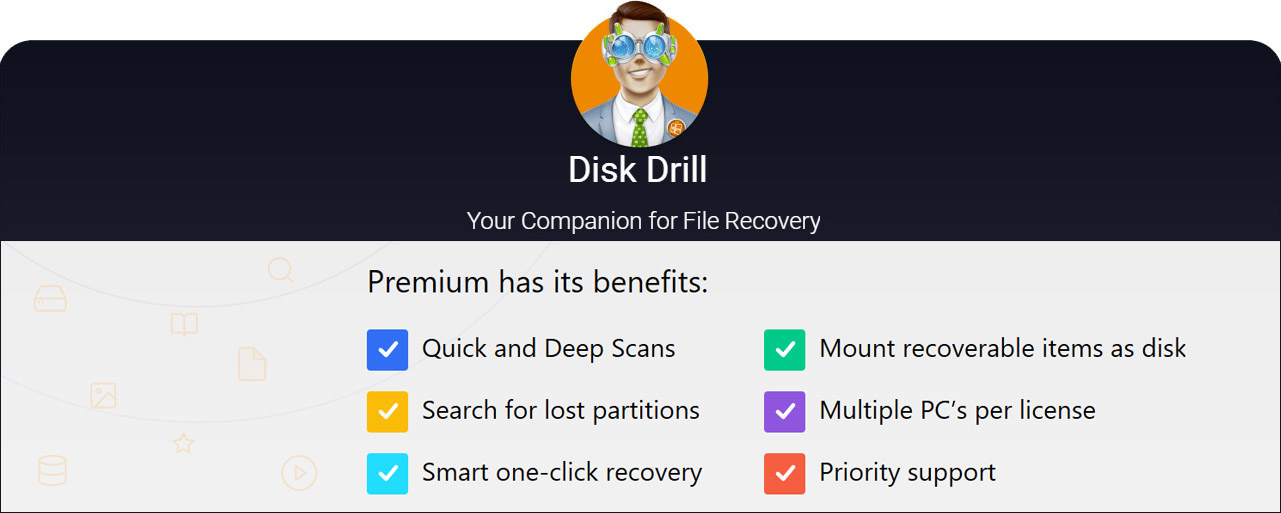 At the heart of Disk Drill are powerful scanning algorithms that enable you to undelete files from any storage device, including an external hard drive. These algorithms can recover files in over 400 different file formats by searching your drive on a sector-by-sector basis and reconstructing items from their file signatures.
Here are some of Disk Drill's outstanding features:
Multiple scanning modes recover as much data as possible from your external hard drive.
An intuitive and user-friendly interface enables you to recover lost data with a few simple clicks.
You can pause and restart scans and recoveries at your convenience.
Free data protection utilities safeguard important files and folders.
Free disk imaging functionality creates byte-level backups of failing disks.
Both Windows and Mac users get all the free data protection tools and the ability to preview recovered files before upgrading to the paid software. Windows users can restore up to 500 MB of data without upgrading to the paid application. This lets you test drive the app and see how it can help you recover from unexpected data loss.
Alternative Data Recovery Methods
Here are some other methods you can try to recover lost data from an external hard drive.
#1 Use the Windows command line and CHKDSK
Running this command will recover deleted files to a temporary folder created on the external drive. This is less safe than saving the restored files to a new storage location as you can do with recovery software. See the FAQs at the end of this article for a full description of how to use this command.

#2 Make sure you are not currently under attack from a virus by using antivirus software and scanning your computer and the external drive
Removing any infections may resolve issues with data access caused by the malware. Once the computer is virus-free, you can run data recovery software to get back the files that may have been
deleted by the virus attack
.
#3 Use the Windows System File Checker to fix corrupted files
This tool
will scan the disk and attempt to fix corrupt files. When the process completes, you will receive messages detailing its ability to find and fix your files.
#4 Recover from previously made backups with your storage media or by connecting to your cloud backup provider
Using this method will only restore to the system state when the backup was created. Data recovery software can restore deleted files that were not included in the backup.
Be Aware of Losing Data From Your External Hard Disk
There are many reasons that your external hard drive can experience data loss. Some of the most common are:
🛑 Human error – This is by far the most common reason for data loss. It can occur through accidentally deleting files or formatting disks. Perhaps you are unfamiliar with the Windows cmd command and accidentally ran a script that deleted a bunch of files. You might realize it a split second after executing the command, but the damage is done.
😔 Faulty upgrades – Occasionally a faulty system or application upgrade can impact your system. If an external hard drive was attached to your machine during the upgrade, it could have been negatively impacted and you may have lost some data from it.
⚡ Power surges – A power spike can cause damage to your drive and result in a broken storage device that requires data recovery software in order to recover its data. The drive can appear dead after being subjected to an extreme power surge.
🔥 Extreme conditions – Leaving an external hard drive in a hot car or other location where it will be exposed to high temperatures can cause damage to the disk. Similar results will occur if you expose the device to high humidity or moisture.
IMPORTANT POINT
These are just some of the causes of data loss that may confront you. A critical point to remember is to immediately stop using the external storage device as soon as you suspect data loss has occurred. Failure to follow this guidance can lead to the deleted data being overwritten before you have a chance to recover it. Put the drive to the side and fire up your data recovery software.

Why You Should Use External Hard Drive Data Recovery Software
The main reason to use external hard drive recovery software is its reliability and ease of use when faced with a data loss scenario. While you may be able to get your files back with one of the other methods we have described above, chances are good that at some point they will not be sufficient to recover your lost data.
Even if you are in the habit of backing up your computer every day, there is a chance you can delete files before you get the opportunity to back them up. Data recovery software may be your only hope in this kind of situation. Disk Drill offers free data protection tools and is well worth having on your computer for that eventual data loss. A little familiarity with the program will reduce the stress of coping with a real data loss situation.

Protecting the Important Files on Your External Hard Disk
Here are some tips to help protect valuable data on external hard drives.
Have more than one copy of data that is very valuable or that cannot be created. This may involve backing up your external drive to the cloud or making a full copy to another device of similar or greater capacity.
Label external drives to minimize the potential that you will accidentally format the wrong device.
Employ data protection tools such as Recovery Vault and Guaranteed Recovery offered by Disk Drill.
Keep your external hard drives out of direct sunlight and do not subject them to extremes of temperature or moisture.
Getting into the habit of backing up your external hard disk is the best defense against data loss. There are multiple options available for creating backups. Here are some suggestions for reliable methods with which to back up your valuable data.
Mac users can take advantage of
Time Machine
which comes installed on macOS systems.
Many cloud backup offerings are available that can be used with any or multiple operating systems. Some popular choices are
IDrive
,
Carbonite Safe
, and
CrashPlan
.
Look around for a plan that fits your budget and storage needs. However, you do it, start backing up your data today!
Other External Hard Drive Issues Worth Mentioning
Not all hard drive problems result in catastrophic data loss. However, some issues that may only be annoying at first can subsequently get worse and lead to bigger problems. Here are some signs that your external hard drive is experiencing some issues that may demand your attention. Ignoring them is not recommended!
🔊 Scratching or clicking sounds coming from the drive are never a good thing and are often a signal that the physical components are wearing out.
🐢 Slow response time when accessing the drive is another indicator that the drive is having problems.
⏹️ System and application crashes when using the external drive may be caused by a failing or damaged hard disk.
🧱 Unexplained errors when you are reading or writing to the disk can be caused by physical damage or disk corruption. We will look a little deeper into the issue of disk corruption in the next section.
If your external hard drive starts exhibiting any of these signs of looming problems, your best course of action is to create a byte-level backup of the device that can be used for potential data recovery. This type of backup only reads your device one more time and saves the drive from the physical activity required for a recovery procedure. Disk Drill provides this capability for free and the backup can be used to recover files that had been deleted from the external drive.
What to Do if Your External Hard Drive Becomes Corrupt
A corrupt external hard drive may still appear to be physically operational but may display problems with the data stored on the device. Corruption can occur due to many reasons including:
Software failures and system crashes.
Virus or malware infection.
Bad disk sectors.
Power loss leading to incomplete file transfers.
Your disk may be corrupt if you experience problems like lost files or unexplained system crashes. These issues can make it impossible to use the device without addressing its data corruption.
If the drive is recognized by your operating system, you should try to get the data off the device as soon as possible. Creating a byte-level backup using a tool like Disk Drill is one option, or you can simply copy the files to another hard drive. You can also use data recovery software to scan the drive for files that were deleted due to corruption.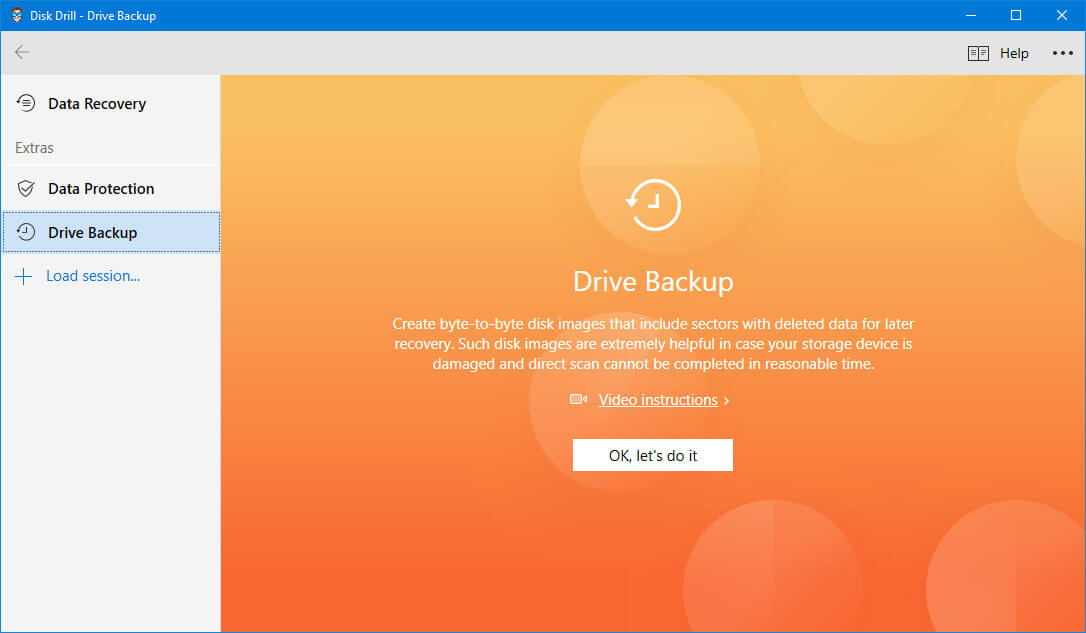 Formatting the drive should eliminate the corruption and enable you to use the device normally again. Once the disk is reformatted, you can copy the data back to the original device.
Is It Possible to Recover Data From a Dead External Hard Drive?
The answer to this question is a firm "probably". At the beginning of this article, we discussed how to get Windows to detect your external hard drive. If you are successful in this effort, you can recover the lost data using data recovery software. Your drive wasn't really dead in this case, just temporarily stunned.
If you cannot get your operating system to recognize the drive, your options are pretty much limited to engaging a professional data recovery service to restore your data. They will use specialized hardware and software techniques to disassemble and clone the data on the drive.
Finding a Reputable Hard Drive Recovery Service
You can spend a lot of money trying to get your data back. What you want is a reputable and cheap external hard drive data recovery service. Here's how using a quality data recovery service works.
You contact the service and explain the problem.
You ship the external hard drive to the recovery center.
Technicians investigate the drive and determine if it can be fixed.
You receive a firm price quote.
Work begins once you give your OK.
When recovery is complete, your data is shipped to you. If recovery is not successful, a reputable company will not charge you.
There are many reliable data recovery services available. Here are a few to get you started on your search.
Make sure that whatever company you engage has a "no data/no charge" policy to avoid getting ripped off. Skilled recovery professionals will know after the initial evaluation if they can get your data back.
Did you know?
The average cost to corporations suffering a data breach is $3.92 million. With the increase in the number of remote workers, the potential for valuable enterprise data to be copied to an external hard drive is greater than ever before. While your personal data may not carry as high a price tag, the files on your external drive are important to you. They are extremely easy to steal and require you to take protective measures to keep your data safe.
FAQ
Yes, it is. Follow these steps on a Windows 10 machine.
Connect the External drive to your computer.
Press Window key + R and type CMD in the search box.
Type chkdsk Drive letter/f in the command prompt window and press Enter.
Press Y until the command line starts again.
Type the drive letter again and hit Enter. This restarts the command line.
Type [Drive letter:/>attrib – h-r-s/s/d*.*]. This command will recover the file from the storage drive. It creates a new folder on the external drive with all the recovered files.
Formatting a disk is done to prepare it for use with a different operating system or to logically delete all of its data. To format an external hard drive in Windows 10 follow these steps:
Connect the external hard drive to your computer.
Open File Explorer.
Right-click on the external drive and select Format.
Choose a filesystem and give the drive a name if you desire.
Select the Quick Format box to quickly prepare the drive.
Click OK when the Format Complete message is displayed.
Disk Drill offers users sophisticated and advanced scanning capabilities that will recover more of their lost files than competing solutions. An intuitive interface and simple recovery procedure take the stress out of the process of recovering your lost data. The addition of free data protection tools to keep your information safe is just another reason to go with Disk Drill.