If you're wondering how to recover deleted files from an SD card on Mac, then make sure to read this article from start to finish.
Jump to:
SD Card Recovery Tips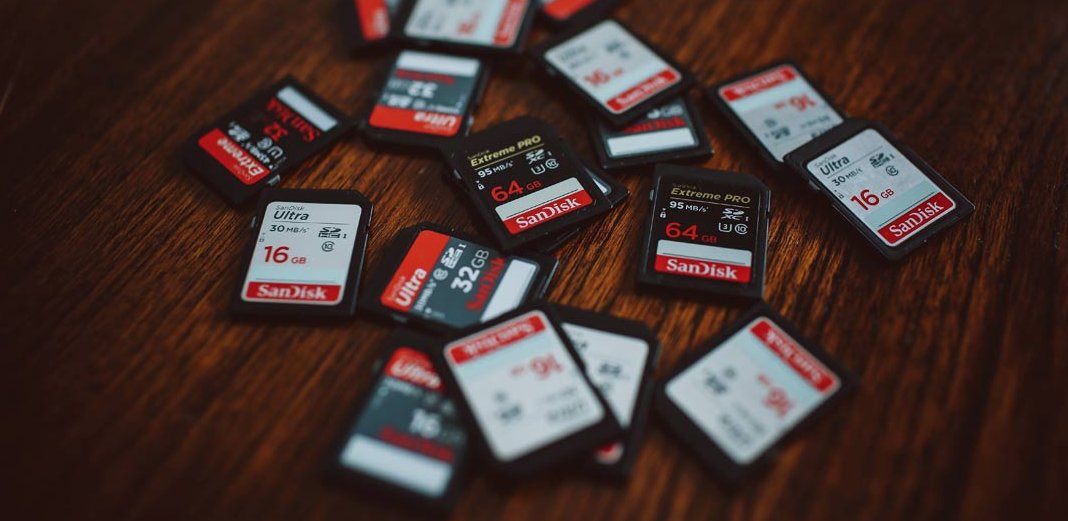 Recovering data from
SanDisk
, Transcend, Sony, and other SD cards is not difficult at all, especially if you follow our step-by-step instructions. However, there are certain mistakes most beginners make, and avoiding them can help you successfully avoid costly data loss.
🛑 Stop using the SD card as soon as possible: Deleted files are recoverable because they are still physically present on your SD card, ready to become overwritten by new files. Once that happens, there's no way at all to recover them. That's why you need to stop using the SD card as soon as you find out that you're missing important files.
🧰 Do not (re)format the SD card: Formatting can quickly solve many issues with corrupt partitions and damaged sectors, but it won't help you restore erased files from your SD card. In fact, it can only make their recovery more difficult, so avoid it at all costs and use the methods described in this article instead.
📱 Do not seek professional help before you tried all methods in this article: Professional data recovery services can deliver excellent results, but they are undeniably expensive. As such, they should be seen as a last resort to be used only after trying the SD card recovery methods for Mac described in this article.
By keeping these three SD card recovery tips in mind, you're guaranteed to successfully retrieve as many deleted files as possible.
Method 1

: Find Deleted Files on Your Mac

One thing that's great about macOS is that clicking the Delete option doesn't immediately delete the selected files. Instead, they are first sent to the Trash folder, where they wait until the folder is emptied, giving you a chance to change your mind.
To check the Trash folder:
Locate the Trash icon at the right end of your Dock.
Click on it.
Go through the Trash folder or use the Search bar in the top-right corner to find your files.
Select any files you want to recover.
Right-click on a selected file and choose the Put Back option. 
Keep in mind that each storage device attached to your Mac has its own Trash folder, including your SD, SDHC, or microSD card. To view the content of the Trash folder on your memory card, you need to first display hidden files.
To display hidden files on macOS Sierra or later:
Open Finder.
Press SHIFT + CMD + . (period).
To display hidden files on older versions of Mac OS X:
Open Finder and go to Applications > Utilities.
Launch the Mac Terminal app and enter the following two commands:
defaults write com.apple.finder AppleShowAllFiles TRUE
killall Finder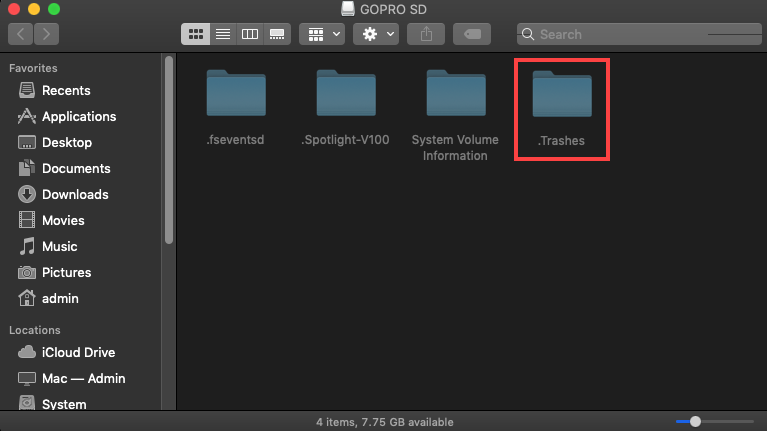 You can now open Finder again, view the content of your SD card, and go through the .Trashes folder to see if it contains the deleted files. If it does, simply copy them to a safe location.
If you can't find the deleted files anywhere on your Mac, it doesn't mean that they're completely lost. There's still a chance that you'll be able to recover them from an existing backup or using special data recovery software for Mac.
Method 2

: Use Data Recovery Software

Mac computers don't come with any data recovery software that would allow its users to recover permanently deleted files that are still physically present on the storage devices from which they were deleted. That's why Mac users have to rely on third-party solutions, which are available at a variety of price points to appeal to different classes of users.

Let's take a closer look at one free and one freemium data recovery application to explain how they work and what the main differences between them are.
Disk Drill is an intuitive data recovery software application that makes it effortless for beginners and pros alike to get back all missing data. The free version can preview an unlimited number of files, but their recovery is possible only with a valid Disk Drill PRO or Enterprise license, which also gives you access to Disk Drill for Windows, allowing you to recover deleted files from SD card on any PC.
To recover files from an SD card using Disk Drill:
Download and install Disk Drill for Mac.
Insert the SD card into a card reader or your Mac's memory card slot and launch Disk Drill.
Select the SD card and click the Scan for lost data button.
Select the files you want to recover. Use the preview feature to help you decide which files to recover.
Click the Recover button and specify the recovery destination.
With just a few simple clicks, Disk Drill can help you undelete all lost files from any SD card, regardless of its size, manufacturer, or file system.
PhotoRec is an open-source data recovery software application that runs in the Mac terminal and can be used to undelete an unlimited number of files from any storage device. Despite not being user-friendly, it enjoys great popularity among advanced Mac users who are not intimidated by the lack of a graphical user interface.
To recover files from a memory card using PhotoRec on Mac:
Install Homebrew (a free and open-source software package management system) by pasting the following command in Terminal:
/bin/bash -c "$(curl -fsSL https://raw.githubusercontent.com/Homebrew/install/master/install.sh)"
Type brew install testdisk and hit Enter to install TestDisk (PhotoRec is included in the TestDisk package).
Type sudo photorec and hit Enter to launch PhotoRec.
Select your hard drive.
Select your partition. Choose the No partition option to scan the whole SD card.
Select the right file system and press Enter. PhotoRec will automatically suggest what it believes to be the right option (most likely FAT or FAT32).
Select a destination to save the recovered files to and press C on your keyboard when done.
As you can see, performing a memory card data recovery using PhotoRec on Mac is far from simple, but at least the application is completely free. But if you're willing to spend some money to enjoy a much more streamlined data recovery process (not to mention a superior data recovery performance), then paid solutions are definitely worth checking out.
Method 3

: Recover Your Files from a Time Machine Backup
Your Mac computer comes with a straightforward data backup application called Time Machine, and you can use it to recover files from a memory card even if they have already become overwritten. In fact, Time Machine is the only solution described in this article that can recover overwritten files from an SD card, which is why you should try it in case third-party SD card recovery software for Mac didn't work for you.
To recover deleted SD card files from a Time Machine backup:
Connect your Time Machine backup drive to your Mac.
Launch Finder and open your SD card.
Click the Time Machine icon located in the Menu Bar and choose Enter Time Machine.
Locate the files you want to recover using the timeline on the right edge of the screen.
Click Restore to restore the selected file.
This method is highly reliable, but it works only if you have an up-to-date backup from which you can recover your files. Unfortunately, many Mac users back up only their main system drive—not removable storage devices, such as external hard drives, USB flash drives, and memory cards.
If you count yourself among them, then you need to go back on to the previous method described in this article because it makes it possible to perform a memory card data recovery on Mac even without a backup.
FAQ
You can fix a corrupted SD card on Mac using the First Aid feature of Disk Utility:
Open Finder and go to Applications > Utilities.
Launch Disk Utility.
Choose your SD card from the list of available storage devices on the left.
Click First Aid and begin checking the selected volume for errors.
In addition to the First Aid feature, you can also try other methods to fix a corrupted SD card, including CHKDSK in Windows and free software applications like TestDisk.
Yes, it's possible to recover data from a formatted SD card, but you must begin the recovery process before the files become overwritten and use the best data recovery software available.
Unfortunately, it's not possible to recover overwritten files from an SD card on Mac unless you have a backup. When deleted files become overwritten, they physically disappear from the SD card, and even the best SD card data recovery software won't help you get them back.